Appearances
Autographs
I don't personally like sticker bookplates for author signatures because I wouldn't want to put a sticker in my personal collection of books, so if you don't want the expense of paying to ship a book two ways, I offer Signature Tattoos.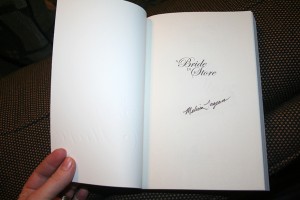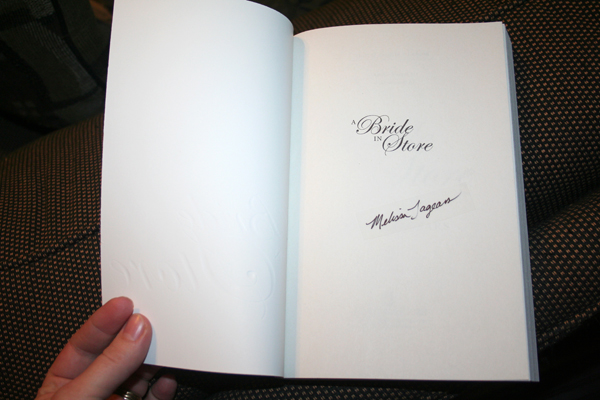 Can you tell that's a sticker? Not unless you look carefully! I have clear labels big enough that I can personalize them if you'd like me to write more than just my name!
Of course, I'd love to see you in person, but if you'd like one of these, send me a self-addressed stamped envelope and I'll send you one (or more)! Just let me know what you want!  Address: Melissa Jagears, PO BOX 4795, Wichita, KS 67204
Recommended Websites for Readers
Christian Fiction for your Kindle
Inspirational Historical Fiction Index
Christian Books for Tweens and Teens
Recommended Facebook Page
This is the best readers' group on Facebook I've ever seen. Avid Readers of Christian Fiction
Book Clubs
I am available to Skype or Facbook video chat with any book club reading my books. Just email me and we'll set up a date!
I don't write discussion questions for all my books, (my books with discussion questions in the back are A Bride in Store and A Heart Most Certain), so here are a few sources for book club questions that should work for any novel.
ALA – Book Discussion Groups – Fiction
Book Bundlz Questions for Any Book
Westfield Memorial Library- General questions for Fiction
My Guest Blog Posts Around the Internet
2018
Kristina Mears – Interview
Seriously Write – Two Reasons for Not Giving Up Writing and Two Reasons to Quit
Relz Reviewz – This or That
Amanda Wen – Author Spotlight
Relz Reviewz – Fast Favorites
Reading is My Superpower – Interview
2017
Seekerville – 5 Ways to Maximize Your Writing Time
Faithfully Bookish – Five Favorites
Joy of Reading – Interview
Bibliophile Reviews – Interview
2016
Literary Cafe – Interview
Relz Reviews – The Inside Scoop Interview
Seekerville – Don't Put Yourself up a Creek Unless you Should (Etymology Article)
Cara Grandle – Periscope Interview about Writing and Publishing
Natalie Monk – Meet the Characters
Mad Hatters Writing Room – Disqus Chat Interview
Overcoming with God – Coping with Debilitating Migraines
Emilie Hendryx – Interview
Ladies in Defiance – Interview
The Engrafted Word – Interview
2015
Seekerville – 8 Reasons why 'No Limits' is bad for You
Seekerville – 5 Ways your Online Review Screams You're a Writer and not an Ordinary Reader
Robin Lee Hatcher – Books Authors Read
Overcoming with God – Overcoming Addictions with Ross and Melissa Jagears
NovelCrossing – My Top Five Reads
Relz Reviewz – Bookish Questions
A Transparent Mom – Face Off with Melissa Jagears
A Christian Writer's World – Interview
The Sweet South Blog – Tips on Writing Novellas
2014
Seekerville – Melissa's 7 Phases of Writing
Overcoming with God – Introverted Mom dealing with Extroverted Children
Sword and Spirit – Do you have a dream?
In the Spotlight – Interview
Inspirational Romance Ratings – A Bride in Store Romance Interview
Petticoats & Pistols – Romance Novels are bad for your Health
SoulInspirationz – Interview
Bethany House Fiction – Fun quiz to see if you're like my character Eliza in A Bride in Store or one of Connealy, Lewis or Mateer's Heroines
Aus Jenny – Interview
The Engrafted Word – Interview
Ink Dots – Interview
Christian Fiction Historical Society – The Historical Five and Dime
Questions and Answers with Melissa Jagears
2013
Overcoming with God: Infertility and Miscarriage Interview
Petticoats and Pistols: The Good ol' Days of doing the same thing over and over…
Character Spotlight at Relz Reviews
Seekerville: How Thanking Contest Judges Can Benefit Unpublished Writers
Christian Writer's World: Interview
Karin Berry: Writing Interview
Stitches Thru Time: Interview
Sword and Spirit: Interview
Ausjenny: Getting to know you Thursdays
Christian Fiction Historical Society: Female Colleges of the Late 19th Century
Seekerville: CPFs Finding and Keeping a Critique Partner Forever
Novelscorner – Interview
Seriously Write – Youtubing for Details
Inspirational Romance Ratings – Romance Questionnaire on my Novella
The Historical Christian Romance Review – Author of the Month Interview
2012
Christmas Memories with Melissa Jagears
Special Guest Honoring a Little Observed Holiday
Save
Save
Save