I hope each and every one of you had a lovely Thanksgiving! We had a quiet one where we did absolutely nothing but cook some of our Thanksgiving favorites and played with the kids.
They said they were most thankful for each other AND pumpkin pie–the boys had a hard time deciding whether or not pumpkin pie was their #1–but I think this photo proves they're happiest to have each other.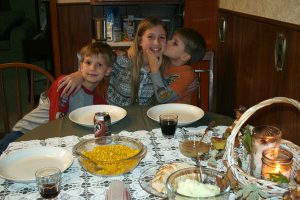 If you are a Thanksgiving Sales Shopper, I wanted to make sure you knew that you can get
All 3 of my newest stories for less than $10!
THIS MONTH ONLY!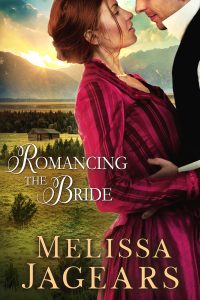 Desperate to keep her ranch, Annie Gephart must marry or sell. Which in-town bachelor would consider a surprise proposal from a plain widow with a rebellious daughter, a spirited boy, and unpaid taxes—without laughing in her face?When Annie proposes marriage without a single coquettish bat of an eyelash, can Marshal Jacob Hendrix commit himself to a woman he hardly knows for property he'd be an idiot to pass up?
When they lose everything they've sacrificed to save, will a stranger's love be enough?
If you like
marriage-of-conveniences, you'll love this sweet, Christian romance filled with endearing characters.
ONLY $4.99!
~~~
I've been blessed by some lovely reviews on Romancing the Bride that confirm for me that I'm doing exactly what I hope to do with each of my books. I want to entertain, I want to think deeply, and I want to do that through the vehicle of true-to-life, yet satisfying romance.
"I finished the story in a day and then went back and read the last several chapters just so I could enjoy them again." ~Madalyn
"If you like books that reach in and make you think, this is one to pick up." ~Martha
"Loved this novel! A heart warming, heart-sizzling clean romance with the classic elements an avid historical romance reader will love! Buy it for sure!!" Jaime Jo Wright
~~~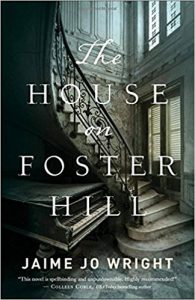 I have to admit I was super humbled by the last review! Jaime Jo was reading my book while she was at the Christy Awards (which she won, yay!) and then she came home and wrote up this review. I didn't even know she was reading my book! Check out her award-winning split time novel, The House on Foster Hill.
~~~
Also, the last two stories of the Teaville Moral Society series are on sale for the FIRST time ever! Don't miss them! They're supposed to go off sale at the end of November, so you just have a week to pick them up if you want to be assured of these prices!
(Though sometimes Amazon randomly keeps them cheap, I can't guarantee they'll stay on sale past Nov. 30th.)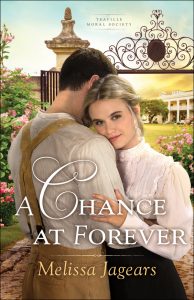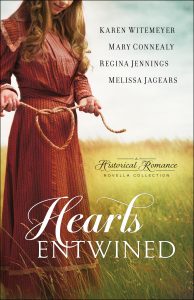 The collection containing Tied and
True— Marianne and Calvin's "Behind the Scenes" story from A Love So True— is $2.99 or less on Amazon, Kobo, B&N, and CBD.
The last of the Teaville books, featuring Mercy and a surprise student's return from Engaging the Competition, is only $1.99 or less on Amazon, CBD, B&N, or Kobo.
~~~
Here are some newer books also on sale in November (Double check prices,
they were these prices early this morning. I'll link to Amazon for expediency.)The Trail Boss's Bride – $0.99
Solace of Water – $1.99
Winning Miss Winthrop – $0.99
Miss Serena's Secret – $0.99
Auschwitz Lullaby – $1.99
True Nobility – $2.99
And this one is not a new book, but I've read it, loved it, and agree that it deserves that Christy Award displayed on it's cover. If you haven't read it, now's the time to pick it up!Burning Sky – $1.99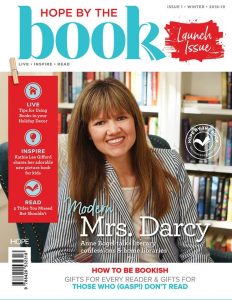 I also wanted to make sure you all were aware of a new magazine coming out that's just for readers of Christian genres! Not only does Hope by the Book have reviews, but it will have other lovely bookish sort of articles!
There is also a coupon code BOOKISH that currently gets you $4 off of an annual subscription, so if you want to check it out, now's the time. The magazine editor told me that the online content and the magazine content will not overlap, so you can enjoy both!
I've already been blessed with a bookmarked review from the online portion of Hope by the Book for Romancing the Bride!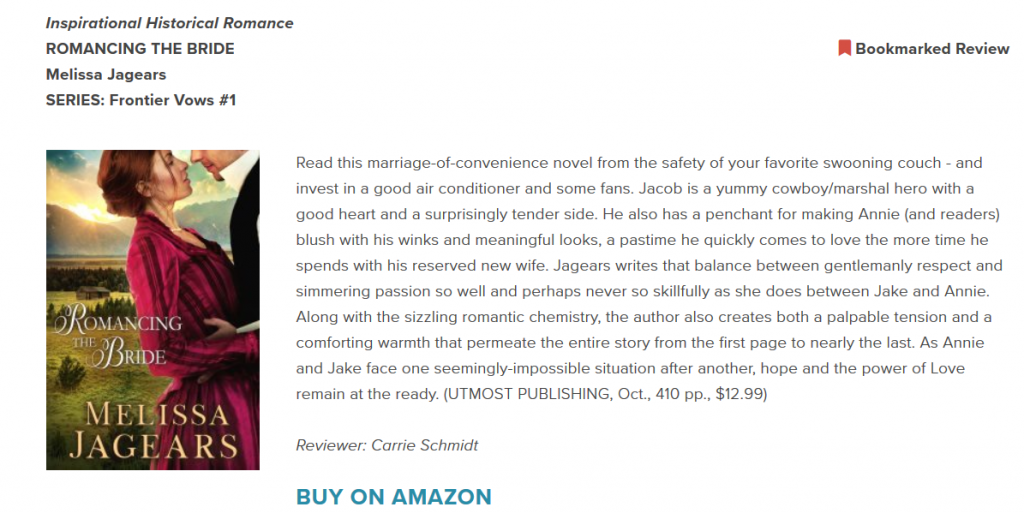 ~~~
I'm working on planning out the rest of the Frontier Vow series, so if you've already read Romancing the Bride, feel free to email me and tell me what you're hoping to see happen in Armelle, Wyoming. I can't do everything, but I do want to fulfill as many reader desires as I can!
Until next time!