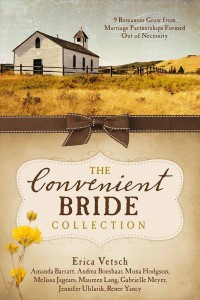 I am so excited to be one of ten authors in The Convenient Bride Collection that's JUST been released! Do you love marriage of convenient stories? Well there's nine of those puppies packed into this book!
Mine's called Blinded by Love and it features Rachel Stanton's brother Neil Oliver who you met in Love by the Letter.  (And if you haven't read Love by the Letter, why not? It's FREE!) 🙂
Here's the blurb for Blinded by Love:
Neil Oliver is a man of few words and a lot of property, but when he's informed his failing eyesight may lead to blindness, he knows he needs to find someone to help him that he can trust. Helen Barker has helped raise her sister's children over the last two decades and will soon be a burden to her brother-in-law's empty nest. Though she's not a beauty, Neil has often engaged her in theological discussions, which she's always found amusing since he fails at normal conversation with anyone else. When he proposes a marriage of convenience, she takes the chance to leave behind spinsterhood despite Neil's reclusive ways. Will two people set in their ways figure out how to love when sharing words and feelings don't come naturally?
And here's the Giveaway! You have until July 10th to enter! Please share!
Prize Package Includes:
7″ Kindle Fire
Kindle Fire Cover (You'll have a choice of colors)
The Convenient Bride Collection ebook – OF COURSE!
Kindle Versions of:
The Cactus Creek Challenge by Erica Vetsch
A Secret Hope by Renee Yancy
A Bride for Keeps by Melissa Jagears
Two Brides Too Many by Mona Hodgson
The Oregon Trail Romance Collection with Jennifer Uhlarik
The Most Eligible Bachelor Collection with Gabrielle Meyer, Amanda Barratt, and Erica Vetsch
12 Brides of Summer Collection #2 with Maureen Lang
If you don't like Rafflecopter, you may email mjagears AT gmail DOT com for an entry; put Loaded Kindle Fire Giveaway in the subject line to be entered.

Save