Autographs
I don't personally like sticker bookplates for author signatures because I wouldn't want to put a sticker in my personal collection of books, so if you don't want the expense of paying to ship a book two ways, I offer Signature Tattoos.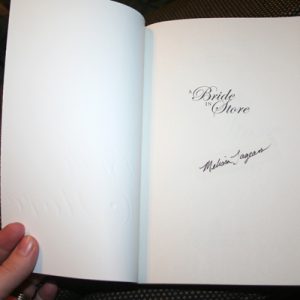 Can you tell that's a sticker? Not unless you look carefully! I have clear labels big enough that I can personalize them if you'd like me to write more than just my name!
Of course, I'd love to see you in person, but if you'd like one of these, send me an email and I'll tell you were to send a SASE to get yourself a few!
Award-Winning Freebie
My first story, my Carol award-winning novella Love by the Letter, is always free! If you haven't read it yet, pick up a copy anywhere ebooks are sold.





Book Samples

You can find several places to look inside my books before you buy, but I offer a larger book sample for download than you can get anywhere else! Just click on the Sample below and download several chapters for free:
Save
Save
Save