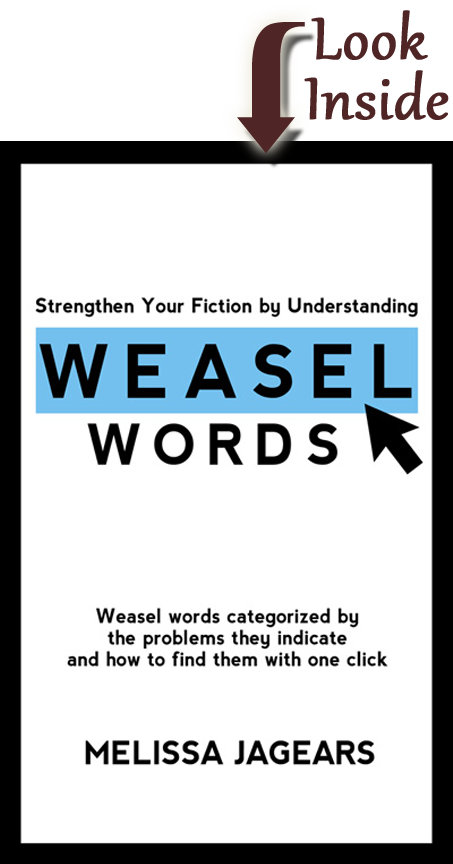 Self-edit better with software you already own!
Whether you're a writer editing your first novel or a seasoned author wanting to provide your editor with cleaner copy, searching out particular words in your manuscript can help you self-edit with confidence. Weasel words aren't just words that have weaseled their way into your writing and need to be tossed back out; many can alert you to places where rewriting will help keep readers enthralled.
If you don't have the luxury of having a writing expert point out your mistakes, Word and Open Office can be taught to highlight your weasel words with just one click of a button. And with the clear instructions and examples in this book, you'll know what to do with each and every weasel word you encounter.
Inside this self-editing mini-workshop for novelists, you'll learn how to set up your writing software to catch everything from grammar flubs to writing craft problems. You'll be certain you've never used a single your or you're incorrectly, you'll find places where you've told instead of shown, and much more.
Understanding weasel words can help writers at every stage improve their writing without the hefty cost of extra editing.
Hyperlinks to outside sources mentioned in the book:
Seekerville – Don't Put Yourself up a Creek Unless you Should (Etymology Article)
Word Frequency Counter at Write Words
Margie Lawson's Body Language Workshops and Lecture Packets
Words That Are Often Confused: http://labarker.com/WritingRelated/words.html
English for Students: Homonyms: http://www.english-for-students.com/Homonyms.html
Riveting your Readers with Deep Point of View by Jill Elizabeth Nelson
Understanding Show, Don't Tell by Janice Hardy
Buy the weasel word macro codes and see video instructions for uploading the purchased code:


*If you have an old version of the book, Scrivener was also an option for finding weasel words, but after one of their updates, it's far less effective and isn't really worth buying the template from me. You can make Scrivener do a bit of searching still, but if you don't have Word, I'd suggest downloading the free Open Office software and cutting the text out of Scrivener, running it through Open Office to edit weasel words, then return it to Scrivener.
Watch tutorials on how to make the macros yourself, plus how to use the weasel word searches to edit your writing.