It's a match made in heaven…as long as they don't fall in love!
The ranch Nolan Key has spent decades working for, even lost a leg for, is now his—or at least it should be. But an absurd clause in his father's will means he's in danger of losing the place to his lazy, undeserving cousin. Nolan finds himself scrambling to save his home—by proposing marriage to the town laundress.
Corinne Stillwater's hands have betrayed her. Numb from hours of doing the same work over and over, her hands will only heal, according to the town doctor, if she gives up the laundry and marries. But she's been stung repeatedly by love before, so that is one remedy she can't swallow.
When Nolan offers Corinne a marriage in name only, how can she refuse? Such a partnership could give them the security they seek, but what if the ranch isn't as secure as they believe, and their lives—and dreams—aren't quite as compatible as they thought?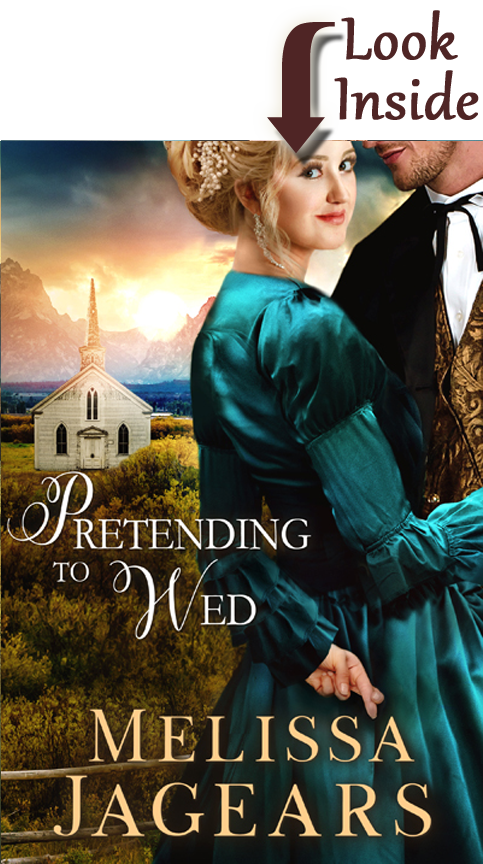 "Pretending to wed is another high quality story from Melissa Jagears. This frontier romance ticks all the marriage of convenience boxes. I adore her realistic take on marriage, the ups and downs included. This story is sweet, tender, and just all-around fun." ~Beth
"If you have read my reviews of Melissa Jagears' novels you may have noticed a theme and my enthusiastic use of the word authentic! Authenticity imprints every one of her stories and it's the characteristic that draws me back to her books. Never has the word been more representative than in her just released, second Frontier Vows book, Pretending to Wed….Corinne's forthrightness and practicality made me smile more than once, and that directness leads to some interesting and honest discussions between a husband and wife about their past relationship experiences that's rare in this genre. Yet another aspect that draws me to Melissa's storytelling." ~ Relz Reviewz

Other Books in this Series: