German
Large Print is Available
Blurb: Although Everett Cline can hardly keep up with the demands of his homestead, he won't humiliate himself by looking for a helpmate ever again–not after being jilted by three mail-order brides. When a well-meaning neighbor goes behind his back to bring yet another mail-order bride to town, he has good reason to doubt it will work, especially after getting a glimpse at the woman in question. She's the prettiest woman he's ever seen, and it's just not possible she's there to marry a simple homesteader like him.
Julia Lockwood has never been anything more than a pretty pawn for her father or a business acquisition for her former fiance. Having finally worked up the courage to leave her life in Massachusetts, she's determined to find a place where people will value her for more than her looks. Having run out of all other options, Julia resorts to a mail-order marriage in far-away Kansas.
Everett is skeptical a cultured woman like Julia could be happy in a life on the plains, while Julia, deeply wounded by a past relationship, is skittish at the idea of marriage at all. When, despite their hesitations, they agree to a marriage in name only, neither one is prepared for the feelings that soon arise to complicate their arrangement. Can two people accustomed to keeping their distance let the barricades around their hearts down long enough to fall in love?
Main Character(s) Also Appear in: Love by the Letter, A Bride in Store, A Bride at Last
Awards: 2012 Fool for Love First Place, 2013 Lime Award Nominee, 2014 INSPY Finalist
Endorsements:
"A Bride for Keeps treats readers to an engaging prairie romance when God's will and love collide, delivering a heartwarming, satisfying read." – Maggie Brendan
"Melissa Jagears is a stand-out talent! Her fresh new voice is strong, stylish, and makes A Bride for Keeps a page-turner for anyone who fancies a stirring love story. Vivid description and unforgettable, heart-tugging scenes between hero and heroine transform the ever-popular mail order bride storyline into something much more real and three-dimensional. In this appealing novel, Ms. Jagears demonstrates beyond doubt that the aplomb of the writer determines the quality of the story." – Rosslyn Elliot
"Melissa Jagears has penned a tender tale of a mail-order bride who takes both the groom–and herself–by surprise when love comes softly . . . quietly . . . to heal their broken hearts." – Julie Lessman
"A Bride for Keeps is just beautiful. It put min the mind of Janette Oke's sweet prairie romances but with a bit more edge, which I found compelling . . . I loved it." -Mary Connealy
Professional Reviews:
"Beautiful, descriptive writing makes for excellent storytelling in Jagears' debut. Everett and Julia are two stubborn, strong-willed yet vulnerable characters at the center of a story about surrender and love. With a well-crafted plot, Jagears deftly expresses the characters' struggle to overcome feelings of self-doubt on their journey toward God and each other." – RT Book Reviews
Reviews:
"I read Melissa's book and it's beautiful and fun to read. She's very talented. So many parts of it lingered for me, Melissa and I still think of it now. Scenes will pop into my head. To me I really mark a great book by how it stays with me." Mary Connealy
"The plot is sweet and flows effortlessly. I must admit that there were some things that happened that I did not see coming. And there were other things that I expected to happen, that never did. The romantic tension is CRAZY! In fact, I will admit that I yelled at the book, just once, because I could not believe that girl didn't just let it go and realize what kind of man she had!!! (I'm still not quite over it, can you tell?) And, let's face it, I would have liked another kiss or two mingled throughout, but the wait is well worth it, let me tell ya!" ~The Historical Romance Review
"The writing is good, the characters are likeable but not perfect, the plot is an original take on an old staple, and it meets all the expectations of a lightweight Christian historical romance. Perfect entertainment." ~ Iola's Christian Reads
"The book has one of the best Biblical messages of forgiveness, repentance, and living out Christianity of all the inspirational fiction I can think of." ~ Emily Rachelle Writes
"On a scale of one to ten, the romance in this novel is a 10. A sweet ten. …I will be reading Jagear's next novel whenever it is released. She's found a spot on my keeper shelf. I didn't even want this story to end. . ." ~ Always Reading
Fan Art!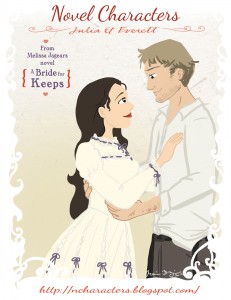 Other Books in this Series: