FREE!
(Unless it's audio book, but it's still cheap!)




Blurb: Dex Stanton has never had much time for book learning. He's been too busy helping to provide for his family. Now that he's heading west, Dex is hoping to start a family of his own. However, his attempt to acquire a mail-order bride fails miserably when the lady writes back ridiculing his terrible spelling. Rachel Oliver may be the last person he wants to know what a dunce he is, but she's also the smartest woman in town–and it's clear he needs her help.
Rachel Oliver has lingered in town for three years secretly mooning over Dex Stanton, but now she's done. If the fool wants to write to a mail-order bride company, so be it. Once she begins giving Dex lessons, however, Rachel realizes she may not be prepared to give up just yet.
As their time together runs short, can two of the most stubborn people in town set aside their pride long enough to find love?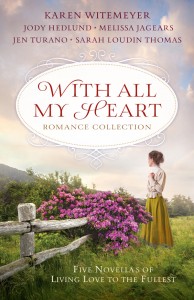 Purchase in Print Collection With All My Heart: Large Print is Available
Main character(s) also appear in: A Bride for Keeps, A Bride in Store, A Bride at Last
Awards: 2014 Carol Award for Best Novella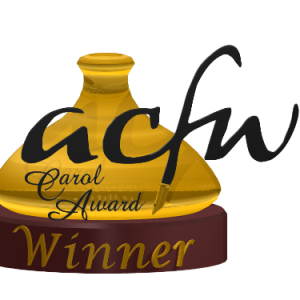 Online Blog Reviews:
….One of the aspects I enjoyed in both the novella and the novel I've read so far is the integration of faith into the characters lives. I had stopped reading Christian women's fiction a few years ago when I became frustrated by the shoe-horning in and, lets face it, sometimes overly saccharin depictions of faith.

….But the thing that really got me was the 'just because the Lord opens a door doesn't mean you have to go thru it' thing. It floored me. It's not every day I actually 'hear' something in a novel – even moreso when we're talking about chrischun-based fiction. So this dropped my jaw… and earned itself extra stars, in the offing.
….The main characters are well drawn. The conflict is believable and Jagears does a great job utilizing her supporting characters to reveal bits of characteristics about her main characters. I especially love the small bit where the heroine's father comes on scene. The setting was spot on. It was like being in Independence, Missouri in the 19th century.
….the author has a fresh style of writing and puts spins on ordinary situations, turning every day things from mundane to extraordinary.
Inspiration for the Novella: Dex and Rachel are characters from A Bride for Keeps. She's feisty and bossy, and he's a laidback charmer. As I was trying to discover why Dex would be writing a mail-order bride company since he and Rachel grew up together, I suddenly realized he was afflicted with the same thing my husband has–dyslexia, and Rachel was an academic whiz kid like me. Rachel and Dex's relationship are a lot like my husband's and mine in this area. It was fun to infuse both of these characters with the fun relational quirks that my husband and I possess. Plus it was easy research! "Oh hubby, would you mind coming over here and writing this down so I can see what you misspell?"
Dyslexia Recommendations: My husband has dyslexia. And he was desperate for me to help him learn how to read faster.
I came across this book:
The Gift of Dyslexia: Why Some of the Smartest People Can't Read . . . and How They Can Learn.
I read the book and found the ideas totally foreign, and if you read the low reviews on the book you'll see others thinking it's just crazy talk, but then I shared the information with my hubby (it would have taken him too long to read), and he said, "You mean, you don't think like that?" So we knew we were on to something. This book has a test in it to discover if the person's dyslexia fits the dyslexia the author is describing, and if it is, you can guide them through step-by-step processes to help them learn to control the gift that dyslexia is so that they can discover and better way to read.
It's not an easy process for a older person with dyslexia to fix the work arounds they've been using their entire life, but knowing is half-the battle! (Now all the children of the 80's sing with me! ♪♫ GI Joe! ♪♫)
This spelling program seems to be very helpful. Even for older kids/adults who've struggled with spelling, my daughter and husband are going through it and they are both doing better than they did before. I'm not very far in the program at the moment, however, so I can't tell you much more than my husband realized on his own in the first handful of lessons that he'd been spelling a very simple word incorrectly his whole life without me pointing it out and my daughter is actually trying to spell words on her own instead of asking me to spell everything because she's afraid to mess up.
Using a font specifically designed for a dyslexic may help as well, there are two free ones:
Another Free Dyslexic font – OpenDyslexic
Other Books in this Series: