Dutch
Large Print is Available
Blurb: Lydia King knows what it's like to be in need, so when she joins the Teaville Moral Society, she genuinely hopes to help the town's poor. But with her father's debts increasing by the day and her mother growing sicker by the week, she wonders how long it will be until she ends up in the poor house herself. Her best chance at a financially secure future is to impress the politician courting her, and it certainly doesn't hurt that the moral society's president is her suitor's mother. Her first task as a moral society member—to obtain a donation from Nicholas Lowe, the wealthiest man in town—should be easy . . . except he flat-out refuses.
Despite appearances, Nicholas wants to help others but prefers to do it his own way, keeping his charity private. When Lydia proves persistent, they agree to a bargain, though Nicholas has a few surprises up his sleeve. Neither foresee the harrowing complications that will arise from working together. When town secrets are brought to light, this unlikely pair must decide where their beliefs—and hearts—truly align.
Main Character(s) also appear in: Engaging the Competition, A Love So True, A Chance at Forever
Professional Reviews:
"Jagears (A Bride at Last) launches a new series with a heartwarming historical romance that also offers an eye-opening look at small-town societal norms of the turn of the 20th century.
Verdict Evenhanded evangelical dialog among the characters will have readers wondering on which side of the moral issues they would land. A good read for fans of Amy Clipston, Susan Anne Mason, and Francine Rivers's Redeeming Love." – Library Journal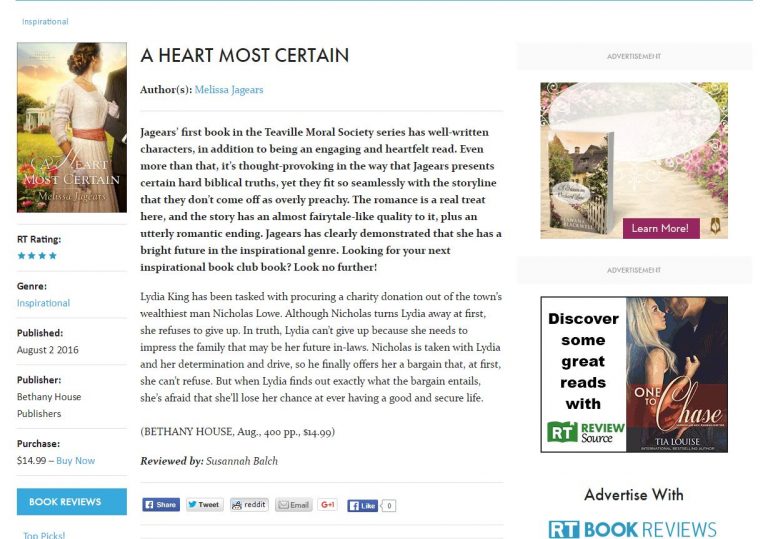 Reviews:
"This book caught me completely by surprise. I expected a light romance and an easy read.
What it turned out to be was a book to challenge our beliefs and actions.
When we preach forgiveness, grace and love – do we truly believe it is for everyone?
Are we truly willing to go out to those in need without judging and insisting even when help might not be first welcomed?
Have we truly confessed to God our need for His help to love because we are very judgmental people?
In "A Heart Most Certain" we follow Lydia and Nicholas's trajectory as they butt heads more often than not and try help those in need. The problem is that each one has a different idea of how this should be done.
But as they work together, old prejudices start falling and the characters are met with a challenge to stand for what is right, even if this means going against what society defines as "propriety".
I loved how the author did not make one character completely right and the other completely wrong. Both had their faults and both were right with the opinions they had. Therefore they were able to help one another see from a different perspective and break down judgments they had built.
I absolutely adored this book and will keep an eye on the next books of this series!" ~mclara~
"Where do I start? This book is amazing – the writing, the characters, the cover, the plot line – I loved everything! A Heart Most Certain is one of the best christian historical romances I've ever read. Gah!
Okay enough of my crazy raving haha. Lydia is a caring young woman who knows what it's like to be poor and have to ask for assistance. Thanks to the private and very wealthy Nicholas, the reader sees how Lydia's views on the world change. Her eyes are opened to the harsh realities of those even less fortunate than her.
Prostitution is a taboo subject that people don't like to discuss and those involved in it are looked at negatively today. So you can imagine what the general population felt about it in the early 1900s which is the time period A Heart Most Certain takes place. I can just imagine the fear and embarrassment Lydia must have felt when Nicholas took her around the red light district to help the children and women.
I am rating A Heart Most Certain a 5 out of 5 stars. The feels I felt for all the characters in this book especially the secondary characters…I didn't want the book to end. It's like I had to say goodbye to these people who became like friends to me. I sure am gonna miss Lydia and Nicholas ♡" ~Angela Dawn~
Other Books in this Series: