Tied and True Blurb:
Wealthy Marianne Lister is in love with business assistant Calvin Hochstetler, but he can't see past the difference in their social status. When Marianne takes a job to prove that she is prepared for a life of hard work alongside the man of her dreams, will it be enough to convince Calvin to risk it all for love?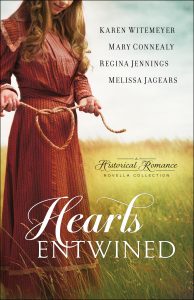 Purchase in Print Collection Hearts Entwined: Large Print is Available
Four top historical romance novelists team up in this new collection to offer stories of love and romance with a twist of humor. In Karen Witemeyer's "The Love Knot," Claire Nevin gets the surprise of her life awaiting her sister's arrival by train. Mary Connealy's "The Tangled Ties That Bind" offers the story of two former best friends who are reunited while escaping a stampede. Regina Jennings offers "Bound and Determined," where a most unusual trip across barren Oklahoma plains is filled with adventure, romance, and . . . camels? And Melissa Jagears' "Tied and True" entertains with a tale of two hearts from different social classes who become entwined at a cotton thread factory.
Main Character(s) also appear in: A Love So True
Other Books in this Series: